Transitional Time for Student Affairs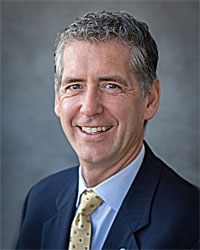 Over the summer, a significant transition occurred in Student Affairs. Founding Vice Chancellor Jane Lawrence, who built the division from the ground up, passed her torch to me.
After 13 years in the position, Jane moved into her new role as the special assistant to the chancellor and is focusing on the 2020 student experience. She will continue to help our university fulfill its missions around access, affordability and degree attainment. Words cannot express the gratitude I have for Jane and her amazing work over the past years. She developed the foundation for our future and has been my mentor and guide.
In my new role as interim vice chancellor, it is exciting to be even more connected with the great work happening at UC Merced to help keep student success at the center of our efforts.
That focus has helped the campus receive grants and gifts to support our work. With a federal grant, we launched the Degree Attainment for Returning and Transfer Students office out of the Calvin E. Bright Success Center. With a gift from the UC Office of the President and the John Elia Education Endowment, we added more directed support for our undocumented students. A federal grant from the Department of the Interior and a gift from the Watkins Family Foundation have added to the leadership and outdoor wilderness experiences coordinated through the Yosemite Leadership Program.
The Food Pantry effort to address food scarcity among our students has garnered national attention, and aligned us with President Janet Napolitano's Global Food Initiative. Her recent visit also gave the campus an opportunity to showcase our partnerships with local farmers and ranchers as we seek to promote the farm-to-table initiative.
Leadership Role Changes
This work, plus much more, continues while the division goes through a period of transition.
Fuji Collins will continue to serve as the assistant vice chancellor for Health and Wellness. That team will add the Calvin E. Bright Success Center as we holistically expand our concentration on student success. In addition, Fuji will serve as interim dean of students, and oversee the Student Response Team as well as serve as our point of contact for student-crisis intervention.
In addition to his role as the director of the Center for Career and Professional Advancement, Brian O'Bruba will serve as interim assistant vice chancellor for Campus Life. Along with the Center for Career and Professional Advancement, the Campus Life team will continue to include ASUCM, the Campus Store, Graduate Student Services and the Office of Student Life.
J. Michael Thompson, associate vice chancellor for Enrollment Management, is headed up Highway 99 to take on a similar role at the University of the Pacific. We will start a national search by the end of the month.
I will continue to work directly with Housing and Residence Life and Dining Services, especially around planning for our growth as part of the 2020 Project.
Enrollment Snapshot
A few weeks ago, we moved almost 1,250 new students into on-campus residence halls and welcomed 1,659 new first-year and transfer students at the annual Scholars Lane Bridge Crossing. Our new students continue to represent the entire state of California, with 36 percent coming from the Central Valley, 35 percent from Southern California and 22 percent from the Bay Area. Our increase in students from the Central Valley represents the important work being conducted by Associate Vice Chancellor for the Center for Educational Partnerships Jorge Aguilar and his team to improve educational opportunities. 
More than 50 percent of the new students are STEM majors and 68 percent self-identified as first generation (neither parent graduated from a four-year college or university). The racial and ethnic diversity of this class continues to reflect our commitment to access, with more than 120 new students falling into the category of undocumented, or "Dreamers."
We also welcomed 100 new graduate students, as our graduate student population grew to nearly 400. Making up about 6 percent of our total enrollment, this group of students continues to work with faculty members to advance our research agenda and excellence in teaching, both of which are hallmarks of a UC education.
I am confident in our ability to continue supporting each other in our important work and in our passion to help students succeed and reach their academic goals. It has been the foundation of our past and will continue to be the framing for our future endeavors.