UC-Led National Conference Addresses Campus Sexual Violence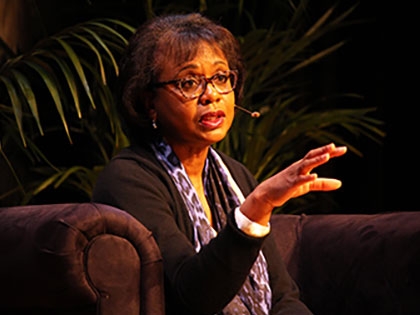 University of California staff and faculty members and student leaders joined representatives from other universities, public agencies and nonprofit groups nationwide for a two-day conference at UC Berkeley to discuss and exchange ideas about how to better address sexual assault on college campuses nationwide.
About 500 participants attended the National Conference on Campus Sexual Assault and Violence, held Feb. 24-25 in Berkeley. UC Berkeley hosted the conference with support from the UC Office of the President.
Panel discussions and workshops focused on sharing best practices, research and innovative ideas on preventing and responding to sexual violence. Workshop topics included bystander intervention, the role of the media and pop culture in shaping campus culture, strategies for engaging men in sexual violence prevention, and how universities can ensure the complaint resolution process is fair for both survivors and the accused.
The conference closed with a conversation with Anita Hill, who testified at a 1991 congressional confirmation hearing for then-Supreme Court nominee Clarence Thomas that she had been sexually harassed by Thomas, and UC President Janet Napolitano, who was one of Hill's attorneys at the time. UC Berkeley Chancellor Nicholas Dirks moderated the talk.
Last June, Napolitano called for the formation of a systemwide task force to evaluate UC's policies and practices and offer recommendations about how the university can better address and prevent sexual violence on its campuses.
UC is in the midst of implementing several of these recommendations, which include the creation of a full-time, confidential advocate and support office on each campus, and establishing a standard model for responding to sexual violence across the university system.
Other recommended actions being implemented, slated to launch in July, include a comprehensive education and training program on each campus, establishing unified investigation and adjudication standards and sanctions, and providing appropriate services to those responding to allegations.