UC Merced's ISSUU Page Features Three New Publications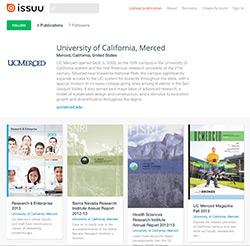 In addition to the inaugural issue of UC Merced Magazine, the campus's ISSUU page is now home to three new university-produced publications – the Sierra Nevada Research Institute annual report, the Health Sciences Research Institute annual report and the latest edition of Research & Innovation, the publication that used to be called Inventions.
The ISSUU page went up in the fall with the Nov. 1 publication of UC Merced Magazine, and is carefully being filled with the products that best display the campus and have the widest appeal.
"University Communications and our clients spend a lot of time and effort to produce these publications and make them beautiful as well as informative for readers," said Director of News and Social Media Scott Hernandez-Jason. "We found that, rather than distributing a plain PDF, the ISSUU platform presents these pieces in a way that's as close as you can get to reading them in print."
Because the online format offers links and embedding codes, clients have a variety of ways to share their hard work and spread the word about UC Merced's stellar faculty, staff and student body with the world.
Learn more about how University Communications can help you with publications or fill out a project initiation form to get started on your own.