UC Merced Among the Country's Most Sustainable Campuses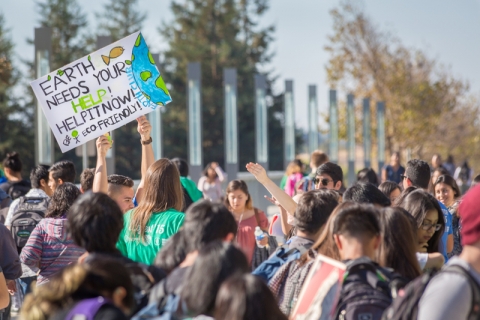 UC Merced is recognized as a top performer in the annual 2016 Sustainable Campus Index, tying for third with two other UC campuses for its sustainable investment practices.
This is the second time UC Merced has made the Index, and comes among a flurry of other sustainability honors this year.
"UC Merced's strong performance in the area of sustainable investment demonstrates significant leadership and commitment to advancing sustainability," AASHE Executive Director Meghan Fay Zahniser said. "We are pleased to recognize UC Merced for working to secure a thriving, equitable and ecologically healthy world by incorporating sustainability into campus operations, administration, engagement and academics."
The Index, a publication of the Association for the Advancement of Sustainability in Higher Education (AASHE), highlights colleges and universities in 17 areas as measured by the Sustainability Tracking, Assessment and Rating System (STARS).
"UC Merced is proud to have this recognition," campus Sustainability Director Colleen McCormick said. "We are continually striving to improve and expand our campus sustainability efforts, and honors such as this one validate that we are moving in the right direction."
UC Merced has a sustainable investment policy, choosing to reap earnings from industries such as renewable energy or sustainable forestry; businesses with exemplary sustainability performances; sustainability investment funds; community development financial institutions; socially responsible mutual funds; and green revolving loan funds.
But it's not the only area in which UC Merced strives for sustainability excellence.
"At UC Merced, we are proud of the investments we make in our sustainable culture, from the way we invest to our educational programs and research," said Daniel Feitelberg, vice chancellor for Planning and Budget.
To make the Index, campuses submit rigorously detailed sustainability reports on a variety of topics, from transportation to purchasing. UC Merced, UC Riverside and UC Santa Cruz tied for third place for investments and finance, behind Unity College in Maine and Green Mountain College in Vermont.
UC Merced improved its overall rating this year from silver to gold, and sustainability leaders plan to meet the platinum rating requirements by 2020, becoming the first UC campus to do so.
The new AASHE report also recognized the campus's Report a Leak program, which allows building occupants in the Social Sciences and Management Building to quickly and easily report leaks by scanning quick response (QR) stickers.
The campus also recently learned that it made the Princeton Review's list of the most environmentally responsible colleges for the second consecutive year, scoring 93 out of a possible 99 points in areas such as whether students have a healthy and sustainable quality of life on campus; how well the school prepares students for employment in an increasingly green economy; and how environmentally responsible a school's policies are.
The education services company — known for its test prep and tutoring services, books and college rankings — features UC Merced in the 2016 edition of its free book, The Princeton Review Guide to 353 Green Colleges.
Earlier this fall, UC Merced was also named one of the Sierra Club's "Cool Schools" for its commitment to sustainability.
This marks the fourth time in the last five years the campus has appeared in the Sierra Club's rankings — each time in the top 100 — which examine factors like energy use, transportation practices, water conservation, food services and curriculum. Out of 202 universities ranked this year, UC Merced placed No. 84.
UC Merced is sustainable by design. Students work to educate others about caring for the environment; purchasing procedures reward vendors who follow sustainable practices; landscaping is designed for maximum efficiency; buildings are equipped with smart technology to manage the campus's environmental footprint; and some of UC Merced's most important research focuses on sustainability, from solar energy and ecology to climate change and water resources.
UC Merced remains the only university in the nation to have all of its buildings certified by the U.S. Green Building Council's Leadership in Energy and Environmental Design (LEED) program, meeting or exceeding standards for sustainability in design and operations.
And UC Merced is on track to meet two major benchmarks — UC President Janet Napolitano's Carbon Neutrality Initiative and the campus's own Triple Zero committment to emit zero net greenhouse gases from its buildings and vehicle fleet, and to be a net zero energy campus, by 2020, something no other major research university has done.