UC Merced Continues Bringing Value to the Valley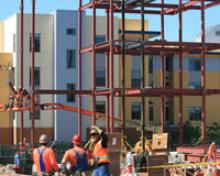 Between research, jobs, and the thousands and thousands of purchases of goods and services, UC Merced is helping move the Valley's economy forward to the tune of $815 million since July 2000.
UC Merced has contributed about $1.54 billion to the statewide economy.
In just the past 14 months, the campus has invested more than $165 million in the regional economy, including the record $15.8 million spent this past year for research.
In 2011-12, faculty members received more than $22 million in grants, including $2 million from the National Science Foundation to continue the Sierra Nevada Research Institute's (SNRI) development of wireless sensor networks measuring snowpack depth and other water-cycle factors; and $2.6 million from the National Institutes of Health to study tobacco programs at the state and local level with researchers at UC San Francisco.
Those grants, which come from public and private sources, help purchase equipment and pay salaries for researchers, but they also ensure groundbreaking research, the long-term effects of which cannot be entirely known.
For instance, SNRI's sensor network could give state water managers the ability to better predict snowmelt runoff, the source of much of the state's water supply to everyone from municipal users to farmers who depend on water for their crops, as well as the state's recreation and ecosystems. And figuring out the most effective tobacco-control programs could save the state money by ensuring taxpayer dollars aren't wasted on initiatives that don't work.
From the smallest purchases to the largest contracts, UC Merced has had a positive impact on the Valley's economy.
"Recent economic reports from various local sources indicate that job growth and key business indicators in the Valley are finally moving in a positive direction, after years of decline," UC Merced Chancellor Dorothy Leland said. "While there's much more room for improvement, we are extremely pleased to be a contributing factor in this much-needed development."
Since 2000 and through August of this year, the university has made more than $531 million in payroll distributions, purchased $145 million in local goods and services and awarded $140 million in construction contracts to Valley businesses, campus statistics show.
As these investments circulate through the economy — supplemented by a rapidly growing volume of expenditures made by students, parents, visitors and others — the economic "ripple effect" routinely increases their overall financial impact by a factor of two to three times, according to an analysis prepared by the UC Office of the President in 2011.
"UC Merced has given the city of Merced a big economic boost," said Frank Quintero, director of Economic Development for the city of Merced. "It has provided hundreds of jobs for our residents, and the faculty and staff are customers of our shops, stores and restaurants. The university itself has a 'buy local' emphasis that has benefited everyone in Merced from construction crews to catering companies."
Recent reports show the local economy is gradually picking up. July marked the sixth consecutive month of positive growth in the Valley's key business indicators, according to the San Joaquin Valley Business Conditions Index, and a midyear report issued by California State University, Stanislaus, showed job growth to be slow but steady in 2011 and the first half of 2012.
Earlier this year, the Milken Institute, which ranks U.S. metropolitan areas each year by how well they create and sustain job growth, said Merced recorded the largest gain of any metro area in the country – up 105 places to 63rd on the list of 379 cities surveyed.
And as the economy moves forward, so does UC Merced's reputation as a world-class research university.
Research expenditures now total more than $90 million since July 2000. Research grants received by UC Merced faculty members totaled $22 million during the past fiscal year.
"Representing the money spent on current projects and being funneled back into the economy, expenditures are the most relevant measure of a research university's production," UC Merced Vice Chancellor for Research Sam Traina said. "The numbers provide concrete evidence that our faculty and staff are conducting a vast amount of groundbreaking research, which is no small task in a sluggish economy."
Though a critical metric of university productivity, expenditures are only half of the equation. The other half is made up of the research awards that fund those expenditures. UC Merced faculty have held steady over the past few years, pulling in about $22 million annually, with a high of $22.8 million in 2008-09.
But it isn't just the economy that's benefitting.
"These awards represent an investment in our students, who benefit from participating in the research experience," Traina said. "UC Merced professors aren't just educators or researchers. They are visionaries who take pride in mentoring the next generation of global leaders. And that is priceless."