UC Merced 'Cool' Again in Sierra Sustainability Rankings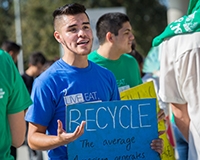 In yet another recognition of its commitment to sustainability, UC Merced this week was named one of the Sierra Club's "Cool Schools."
It's the fourth time in the last five years that UC Merced has appeared in the rankings — each time in the top 100 — which examine factors like energy use, transportation practices, water conservation, food services and curriculum. Out of 202 universities ranked this year, UC Merced placed No. 84.
"We are proud to again be recognized by the Sierra Club for our sustainability efforts throughout campus," Director of Sustainability Colleen McCormick said. "Sustainability is always on our minds at UC Merced, and we will continue to look for better and more creative ways to engage our entire campus community and lessen our impact on the environment."
UC Merced remains the only university in the nation to have all of its buildings certified by the U.S. Green Building Council's Leadership in Energy and Environmental Design (LEED) program, meaning they meet or exceed standards for sustainability in design and operations.
Sustainability has been woven into UC Merced's DNA since the campus opened in 2005. Students work hard to educate others on campus and children in the community about caring for the environment, purchasing procedures reward vendors who follow sustainable practices, landscaping is designed for maximum efficiency, buildings are equipped with smart technology to manage the campus's environmental footprint, and some of UC Merced's most important research focuses on sustainability, from solar energy and ecology to climate change and water resources.
Earlier this year, UC Merced improved its rating from silver to gold in the Association for the Advancement of Sustainability in Higher Education's Sustainability Tracking, Assessment & Rating System (STARS), the system from which Sierra Club gathers information for its Cool Schools rankings.
And UC Merced is on track to meet two major benchmarks — UC President Janet Napolitano's Carbon Neutrality Initiative and its goal to emit zero net greenhouse gases from its buildings and vehicle fleet by 2025, something no other major university system has done; and the campus's own Triple Zero Commitment to consume zero net energy and produce zero waste and zero net greenhouse gas emissions by 2020.
In addition to the Sierra Club's Cool Schools list, UC Merced made its debut in the Princeton Review's Guide to Green Colleges in 2015.
"We are delighted that the rest of the country is learning what we at UC Merced have always known," Chancellor Dorothy Leland said. "UC Merced is a hub of innovation, conservation and smart technology. We are proud to be a 'cool school' in every sense of the word."