UC Merced Library Offers Acces to California Digital Library, F1000 Prime
UC Merced's faculty and staff members and students not only have access to 37 million items in the UC library system, but can also connect to an extensive electronic collection in partnership with the California Digital Library (CDL), one of the world's largest digital research libraries.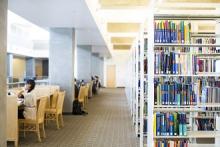 Combined with UC Merced's locally licensed e-resources, this allows you access to 70,000 online journals, 580 databases and 4 million online books (including 3,150,000 HathiTrust full-text ebooks).
Some of the most popular databases and journals include Academic Search Complete (a multidisciplinary database of academic journals), Web of Science (a science and social science citation indexing service) and JSTOR (a source for more than 500 scholarly journals in social sciences and humanities).
CDL also frequesntly adds and updates new resources for discovery and research. Some of the newest updates include CRC Press's ENVIROnetBASE (an e-book collection encompassing the latest research on pollution reduction and environmental contamination), STATSnetBASE (an online library for researchers using statistical science across a wide array of disciplines) and Gale's Nineteenth Century Collection Online (a collection of important 19th century works from libraries worldwide with millions of full-text pages to augment historical scholarship).
Find out how the UC Merced Library can help you access the world through the resources you need by visiting the UC Merced Library website.
F1000Prime Identifies Important Articles In Biology And Medicine
If you are a researcher in biology or medicine, F1000 Prime could help you stay on top of new developments in your field.
F1000Prime differentiates itself from other subject-specific databases by relying on selected expert scientists and clinical researchers to identify important work in their disciplines. Experts, approximately 5,000 individuals, make article recommendations and then score them. Articles recommended for inclusion are ranked according to how many experts have recommended them. Several articles by UC Merced researchers are included.
The database is searchable by the most recommended articles (All Time Top 10), author, area of study and article type. F1000Prime also includes a section, Hidden Jewels, which features articles from the past 14 days published in specialist journals.
The UC Merced Library subscribes to F1000Prime, and it's worth a look.