UC Merced Readies for Summer CAMP Launch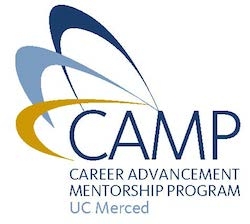 Have you thought about where you'll be in your career five years from now? Are you interested in a specific job but aren't sure of the steps you need to take to land it? Or, are you an experienced employee who wants to share with others your knowledge about your job and the university?
If you answered yes to any of those questions, there's a new program coming to UC Merced this summer that can help with those goals.
The Career Advancement Mentorship Program (CAMP) is now accepting applications for both mentees and mentors until May 16. The annual initiative is slated to run from July 1 through June 30, 2015.
The program is an ambitious effort designed to help staff members plan their paths toward career advancement while offering professional development. Mentoring provides the campus with a means to develop its existing workforce, encourages staff retention and allows employees to share vital institutional knowledge and processes. CAMP will match veteran employees with staff members based on their interests and experiences, and will provide assistance with goal setting, job satisfaction, job enhancement and advancement opportunities.
Helping staff members reach their full potential
"Mentoring is an effective way for experienced employees to share their expertise and will provide an excellent way for us to develop talented and driven staff members who are already a part of the campus's workforce," said Michael Reese, vice chancellor for Business and Administrative Services. "We hope the program will empower employees to reach their full potential."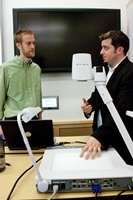 The initiative is a collaborative effort between Human Resources and UC Merced's Staff Assembly and has been in the works for about two years. The program's genesis is a result of a staff engagement survey administered in 2012 by the Council of UC Staff Assemblies. Survey results indicated that staff members systemwide were interested in mentoring and professional development. UC Merced staff members also expressed a desire for more professional training, career development and mentoring resources during last year's Campus Climate Survey.
CAMP's goal is to help mentees excel in their chosen filed and develop future leaders at UC Merced. Mentors and mentees will be matched based on their interests and experiences, and the program's structure will provide participants with assistance with goal setting, job satisfaction, job enhancement and direction regarding upward mobility through bi-monthly workshops and group and individual mentorship activities.
The program will strive to include a wide array of participants from UC Merced's diverse staff, said training coordinator Yazil Navarro. The number of mentees to be selected to serve as the program's first cohort will depend on the number of registered mentors.
"Ideally, we'd like to have at least 25 mentors," Navarro said.
Mentors, mentees sought
Detailed information about the program, how it will work and the requirements to be a mentor or mentee are available on the CAMP website. Those considering serving as a mentor should have the desire and disposition to develop others and be willing to share their experiences - both good and bad. A good mentor also can also advise a mentee on how to successfully navigate an organization's culture.
Potential mentees should also note that CAMP's focus is on mentoring, not coaching, as the two can be confused. Coaching is about helping someone figure out and achieve their goals whereas mentoring is about sharing specialized knowledge and specific skill development.
"Mentoring is a good opportunity on a number of levels, said Rachael Martin of Staff Assembly. "For individuals, it's great because they can 'see' where they're at in their careers and identify the process for advancement or for growing in place so they can get even better at what they do. People may not know the steps or preparation it takes to get there, but mentoring can help identify that process."
For more information, go to the CAMP website or contact Yazil Navarro in Human Resources.