UC President, Chancellors Affirm Support for Undocumented Students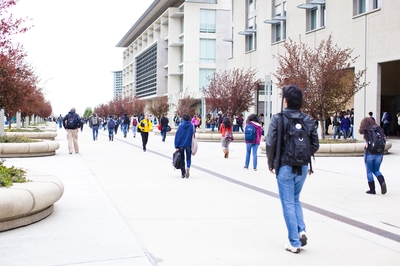 The result of last month's presidential election left many campus community members concerned about the outcome and what it could mean for a number of historically marginalized groups, and in particular for undocumented students.
The day after the election, University of California President Janet Napolitano issued a statement on behalf of the UC system and its 10 chancellors.
"The University of California is proud of being a diverse and welcoming place for students, faculty, and staff with a wide range of backgrounds, experiences and perspectives," Napolitano said. "Diversity is central to our mission. We remain absolutely committed to supporting all members of our community and adhering to UC's Principles Against Intolerance."
UC Merced Chancellor Dorothy Leland issued a statement of her own that read in part: "Our campus, as much as any in the nation, should be a place of unity, inclusion, tolerance and support for students from all backgrounds. We will continue to work together, shoulder to shoulder, to ensure our students' success."
Leland was also one of more than 550 college and university presidents to sign a statement offering to meet with U.S. leaders in supporting Deferred Action for Childhood Arrivals (DACA) .
Napolitano met with staff coordinators who support undocumented students at each of the UC campuses in late November. Based on their feedback and the recommendations, a set of principles were developed to support the UC's undocumented community .
The principles affirm existing UC policies — such as its non-discrimination policy and policies protecting the privacy of university community members. They also state that enforcement of federal immigration laws is the responsibility of federal officials, not UC police. Furthermore, the principles articulate that the UC will not divert public safety resources to undertake any joint efforts to investigate, detain or arrest individuals who violate federal immigration law.
Until the incoming presidential administration takes office, no one knows what will happen. The UC will continue the monitor developments and communicate updates as needed. Meanwhile, the following resources and materials are available: