UC President Napolitano Hosts Online Chat with Faculty on Oct. 14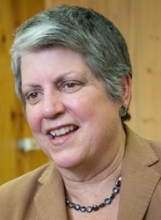 Faculty members are invited to join President Janet Napolitano and their colleagues from across the University of California system on Tuesday, Oct. 14, for a one-hour online conversation on topics of interest.
The event begins at 2 p.m. This is Napolitano's fourth Google Hangout with members of various UC groups.