UC Seeks to Measure Campus Climate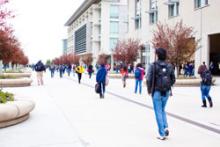 The University of California is conducting what is believed to be the nation's largest institutional climate survey to encourage learning, working and living environments that are inclusive and tolerant for everyone.
The Campus Climate Survey begins at UC Merced starting Feb. 1, 2013, and continues for two weeks. The project is an ambitious effort to gauge the UC's institutional climate for students, faculty and staff. The purpose of the survey is to collect a wide variety of information that captures people's experiences at their respective institutions.
Based on the survey results, each UC location will develop or enhance policies and programs to improve the campus climate for students, faculty and staff to promote an open, welcoming and nondiscriminatory atmosphere.
More than 420,000 students, faculty and staff from all 10 campuses, the Office of the President, five medical centers, Lawrence Berkeley National Laboratory and the Division of Agriculture and Natural Resources will be surveyed. Survey responses will be confidential.
"It's really important to know the pulse of the campus," said Fuji Collins, UC Merced's assistant vice chancellor for student health and wellness and co-chair of the Chancellor's Advisory Council on Campus Climate, Culture and Inclusion. "We need to know how people are feeling about inclusion and whether they believe their voices are really being heard."
Campus climate came into focus after a series of highly-charged racial, religious and cultural incidents on some UC campuses in 2009 and 2010. As a result, the Board of Regents appointed an Ad Hoc Committee on Campus Climate and President Yudof named a systemwide Advisory Council on Campus Climate, Culture and Inclusion. Each campus established its own committee.
All UC Merced faculty, staff and students will receive an email close to the campus's Feb. 1 survey administration date that includes an access link. The survey template was developed by the systemwide advisory council and reviewed by each campus council, which contextualized the questions for their specific locations.
The survey will be led by Professor Susan Rankin of Rankin & Associates Consulting. Rankin is a senior research associate at the Center for the Study of Higher Education and faculty member in education policy studies and college student affairs at Pennsylvania State University. She has extensive experience in institutional climate assessment and has conducted more than 100 surveys across the country.
 The survey takes between 15 and 30 minutes to complete. Those who don't finish in one sitting can come back to it later, until the campus' survey close date. To assure confidentiality, answers will be submitted directly to Rankin & Associates, and the IP address used to submit each survey will be stripped. Additionally, upon submission, all comments from participants will be de-identified to make them anonymous. 
Although organizers would like to see a 100 percent response rate in order to paint a comprehensive picture of the UC's institutional climate, a 30 percent response rate from each campus will provide adequate results. To encourage broad involvement, the Office of the President is offering incentive prizes for completing the survey that include: one $10,000 undergraduate scholarship, two $5,000 graduate student stipends, two $5,000 faculty research grants, five $2,000 staff development grants and two iPads per location.
A unique identifier code will be assigned to each participant and the campus will hold those codes for the systemwide incentives. Rankin & Associates will only receive the unique user identifier code when the survey is completed and will separate those identifier codes from submitted responses to maintain confidentiality.  
Each site will receive a report of its survey results and a systemwide report will be compiled as well. UC Merced's report is expected to be available online in March 2013. 
The ultimate goal of the study is to make the University of California a model for diversity and inclusion in higher education. Campus climate, defined by survey's study team as the current attitudes, behaviors and standards of faculty, staff, administrators and students concerning the level of respect for individual needs, abilities and potential is a critical issue that affects everyone. For example, research has shown that faculty, administrators and staff who consider their campus's climate healthy and inclusive are more likely to feel personally and professionally supported. For students, how they experience their campus's environment influences learning and developmental outcomes. Students thrive in healthy environments, while a discriminatory atmosphere impacts learning.
"Our hope is that this survey will bring a lot of clarity to each campus and the UC system overall," Collins said.
More detailed information regarding the UC's Campus Climate Survey -- including an overview of the project, its goals and a list of frequently asked questions is available online.