UC Walks, Wellness Fair to Promote Healthy Habits
On May 20, wear your walking shoes to work and join your colleagues in the sixth annual systemwide UC Walks.
Organized by campus and medical center wellness coordinators, UC Walks is a UC Living Well wellness activity. It is open to all faculty and staff members and retirees. Each participant receives a free T-shirt, while supplies last.
Registration for the walk starts at 8:45 a.m. at the Joseph E. Gallo Recreation and Wellness Center. Participants can stroll on their own or go on a walk guided by campus leadership. The leader-guided walks last approximately 30 minutes. This year's UC Walk leaders:
9 a.m. — Assistant Vice Chancellor Brian Powell
9:30 a.m. — Chancellor Dorothy Leland and Vice Chancellor Kyle Hoffman
10 a.m. — Assistant Vice Chancellor Graeme Mitchell and interim Dean Erik Rolland
10:30 a.m. — Interim University Librarian Donald Barclay
11 a.m. — Assistant Vice Chancellor Mike Riley
11:30 a.m. — Vice Chancellor Michael Reese
Two off-campus locations — Castle and the Fresno Center — will host their own UC Walks events. The Castle walk is organized by Chris Meneses and the Fresno Center walk by Brandy Nikaido. Employees at those locations can reach out to Meneses and Nikaido by May 13 if they want to attend their local events and receive free T-shirts.
More than 6,000 people across the system participated in UC Walks last year, collectively covering more than 11,000 miles.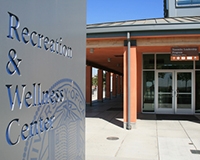 The Wellness and Safety Fair will be held the same day, also at the Recreation and Wellness Center. The fair is from 11 a.m. to 2 p.m. and features UC health vendors and local businesses.
Participants can get free chair massages, blood pressure checks, body fat testing and more. A free lunch is provided to those who RSVP via IntelForm. Registration deadline for lunch is today (May 8). A raffle will be held after the Wellness Fair, and Human Resources will announce the prize winners via an announcement.
You can find out more about UC Walks and the Wellness and Safety Fair by visiting the UC Merced Choose Well website.
Meanwhile, employees and retirees eligible for the wellness incentive award who participate in UC Walks will earn 2,500 points toward the 7,500 points needed to receive a $75 incentive gift card.
You can also earn points by completing the online Total Health Profile and through other campus activities, online health programs, wellness coaching, and preventive exams and screenings. Employees represented by some collective bargaining units are not eligible to earn the incentive gift cards.
For those who are looking for inspiration to participate in this year's UC Walks, a video featuring systemwide participants in last year's walk can be viewed.