Update Regarding Library Collections
UC Libraries Regain Access to Taylor & Francis Journals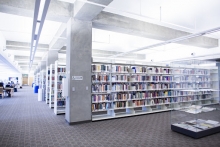 After a four-year impasse, the University of California Libraries and publisher Taylor & Francis have reached an agreement regarding its journal package. As a result, access to nearly 3,000 journals has been restored. Records for all journals included in the new package are in Melvyl.
Taylor & Francis is an international publisher with particular strengths in humanities, social sciences and public health.
UC Libraries Acquire Cambridge University Press eBooks
UC Libraries signed a license with Cambridge University Press to acquire ebooks to be published in 2016 to 2018. Approximately 1,200 titles are expected to be published annually during each year of the agreement. Records for all published 2016 titles are in Melvyl. Cambridge University Press is a worldwide scholarly publisher in all disciplines with strengths in the humanities and social sciences.
Zoological Record Added to Database Listing
Zoological Record — a database that includes content that address biodiversity, the environment, taxonomy and animal biology — is now available to UC Merced researchers. Some titles date back to 1864. Zoological Record is accessible through the UC Merced Library's database listing, Melvyl or the Web of Science Core Collection drop-down menu.
Visit the UC Merced Library website for more information about its collections and resources or send an email.