Updated Websites Launch for SSHA, University Communications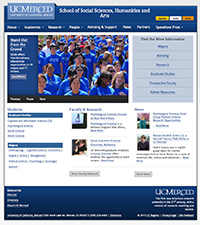 Redesigned websites launched recently for the School of Social Sciences, Humanities and Arts (SSHA), and for University Communications. 
SSHA's site uses the latest campus template, which features a photo slider and more entry points for important information. The site also has a news section, a faculty and research section and various quick links for students. 
University Communications' updated site also uses the new template. The site includes the 2013 edition of the UC Merced style guide, an updated publicity checklist, information about downloading campus photos and a section for help with internal communications.
Both new sites are part of a campuswide web migration to Drupal 7. More information about web services can be found online. For more information, email Web Communications Manager Amy Lozano-Smith.