Valley Native Finds a Home at UC Merced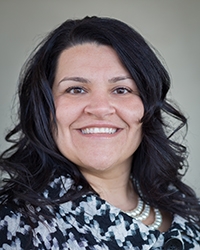 Dora Lopes has had her eye on UC Merced since she was in high school — which was before the campus even opened.
The Tracy native earned her bachelor's degree in business administration with a concentration in human resources from CSU Stanislaus in 2001. She began her professional career as an administrative assistant at Lawrence Livermore National Laboratory, but the commute from her home in Turlock was less than ideal, and her interest in UC Merced only increased as the years passed.
In 2007, the stars aligned. She married Victor Lopes, a dairyman who is now an account manager based in the Valley, and was hired as an academic and personnel analyst in the UC Merced School of Natural Sciences. She's now the school's personnel manager, overseeing a team of four employees who handle the complicated logistics and processes surrounding faculty and staff hires.
Dora and Victor Lopes, who have a 4-year-old son named Alexander, are fully entrenched in their community. They are presidents of a Portuguese organization associated with Our Lady of the Assumption church in Turlock, and they are organizing a five-day Portuguese celebration in August.
Dora Lopes' parents emigrated from the Azores and were presidents of the same organization 10 years ago. She said her background has made her feel even more connected to UC Merced and its mission.
"I appreciate that UC Merced serves the Central Valley," she said. "I have a vested interest in that. My parents came here for better life for their children. UC Merced has that same feeling, and I appreciate that and wanted to be a part of that."
Lopes recently answered a few questions for Panorama.
What does your job entail?
I am the academic and staff personnel manager in the School of Natural Sciences. I oversee the hiring of academic appointments, including professors, postdocs, junior specialists, project specialists, visiting professors and lecturers. Starting last September, I took over managing the personnel for staff as well — it's an honor for me, and a great growth opportunity.
In addition to the recruitment process for new hires, our team also helps faculty members who are seeking promotions such as tenure. We guide them through the process, helping with their CVs, teaching statements, research statements and publications. We help them put their packets together, email people to request letters of recommendation, gather information for the committees, work with the dean — we are very hands-on through the whole process.
What do you find most rewarding about your job?
Promotions are a yearlong process — faculty members turn in their packets in the summer, and they don't get results until the following spring. When they get tenure, it's a great celebration, and to me that is so rewarding. Hiring new faculty members can also be very rewarding. So much work is involved, and we're competing with huge universities from all over the world. When we are able to make a great hire, that is very rewarding as well.
What are some of the challenges you face in your role?
Academic HR is not something you go to school for — you really have to learn on the job, and there is a lot of hands-on training. We do HR, but it's a whole different flavor of HR. Last year we lost two team members and had to replace them, and it takes time to train the new employees. Also, as the campus continues to grow and hire more faculty, there is more of a workload for our team, and it can be hard meeting all of our deadlines.
What are you most looking forward to in your job over the next year?
I'm looking forward training our new team members and having a great, robust team, and also continuing to grow our Web presence. We are online now, which was a long time coming. And now that we've meshed the personnel units, I hope to see that arrangement become fruitful and really make us a one-stop shop for both faculty and staff.
What do you want people will remember about you?
I've been told I'm very jovial and fun to work with. I would hope people remember my attitude, my laugh, my fun side and my positive outlook on work and the work environment.