Vice Chancellor, Campus Earn Another Award for Merced 2020 Project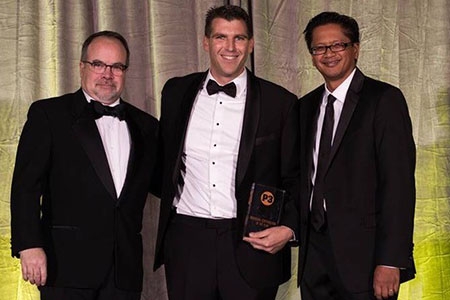 UC Merced continues to earn accolades and recognition for its Merced 2020 Project, with the latest honor bestowed to one of the campus' senior leaders.
During the third annual P3 Awards held Oct. 27, Vice Chancellor for Planning and Budget Daniel Feitelberg received the organization's Best Individual Contribution Award.
The P3 Awards recognizes and rewards outstanding achievements in public-private partnerships across the Americas. The Individual Contribution Award is given to a person who in the past year who most successfully progressed P3 infrastructure and innovation. In the prior year, the award was given to Colorado Governor John Hickenlooper.
The award categories covered projects and companies across the United States, Canada and Latin America with the contenders selected by an 80-strong judging panel. Twelve head judges selected the final winners in each category.
Feitelberg accepted the award on behalf of UC Merced's faculty and students, who he described as the future of our state and our nation. "The expansion of UC Merced allows us to invest in them," Feitelberg said.
During his acceptance speech, he also gave credit to members of the Merced 2020 Project team for their contributions.
"To create, manage and finance it takes an exceptional team of people from many disciplines," Feitelberg said. "I so am grateful to our hard-working team on campus and at the Office of the President."
Two advisory firms involved in the Merced 2020 Project also won awards. AECOM received the Technical Advisor of the Year award while the Plenary Group took home the Sponsor/Developer of the Year award.
This is the second award Feitelberg and the campus has received for the 2020 Project in the last three months. In August, the project was recognized by the Performance Based Building Coalition and InfraAmericas with its Public Sector Champion Award.
The Merced 2020 Project officially broke ground last month. The first phase of buildings is scheduled for delivery in 2018 with the remainder completed in 2020.