Washington Monthly Puts Campus in Top 10 for Value, Social Mobility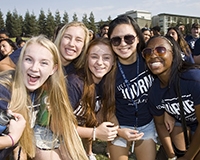 The Washington Monthly College Guide lists UC Merced as No. 8 in its "Best Bang for the Buck: Western Colleges" list — one spot behind Stanford University — highlighting colleges in the Western U.S. that are doing the best job of helping students from low-income families attain degrees at affordable prices.
The campus also ranked No. 5 in the nation out of more than 300 universities for social mobility, using criteria such as net cost, availability of financial aid, economic outcomes and student loan repayment. That high mark helped the university place No. 41 nationally in Washington Monthly's overall rankings.
Washington Monthly prides itself on ranking universities based on "what they are doing for the country" in the areas of social mobility, research and public service.
"It is so great to see UC Merced recognized among the best colleges and universities in the country so early in our history," Chancellor Dorothy Leland said. "To be recognized for the value we offer students through affordability and social mobility shows that we are accomplishing our university's mission to serve the best and brightest students from one of the most underserved regions in the state."
In another ranking, by student lending marketplace LendEDU, UC Merced was No. 128 out of 1,300 colleges for the lowest student loan debt per borrower. Among public universities, UC Merced is No. 61 in the nation.
LendEDU says students currently attending college in the United States leave with an average of more than $28,000 in student debt — at UC Merced, that number is just over $21,000.
The rankings continue a recent trend for the growing UC Merced campus, which has also been recognized for sustainability, diversity and scholarships.