Women's Basketball Wins Second Straight Conference Title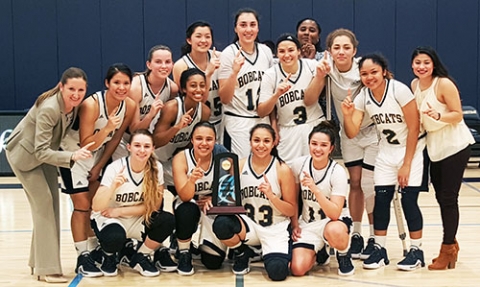 The UC Merced women's basketball team won its second consecutive Cal-Pac Conference championship Tuesday night (March 1), with a 76-56 victory in the conference tournament title game on the road against the California Maritime Academy.
After scoring just eight points in the first quarter, the Bobcats exploded for 49 over the second and third, while holding the Keelhaulers to 25 during that span. Conference Player of the Year Courtney Danna scored a game-high 26 points for UC Merced, including 12 in a third-quarter run that essentially put the game out of reach.
"We started off a little slow, but as we started to pick it up, the defense responded for us and motivated us to score more buckets," Danna said. "The first bucket of the second half was huge for us, because it immediately gave us confidence. It also depleted their confidence, because they knew that once we started going, it was over."
Coach Sarah Hopkins-Chery pointed to defense as the catalyst for the second-half run.
"It's cliché, but defense wins championships," Hopkins-Chery said. "One of the things we talk about is playing hard, out-hustling opponents and having more energy. I feel like we did that from the jump."
Brittany Martinez, Mia Shannon and Kayla Polman made their presence felt defensively. The group combined for 16 points, 18 rebounds and a game-changing seven blocks.
Defensive Player of the Year Jecenia Trinidad had four steals, pulled down a team-high 10 rebounds and disrupted countless Keelhauler possessions.
"Coach made it simple; she said she wanted us to play tight," Trinidad said. "When everyone is able to contribute in one way or another, it makes the win that much sweeter."
The Bobcats were a perfect 10-0 in the Cal-Pac regular season, then rolled through the conference tournament en route to their second straight championship. They will now begin preparations for the NAIA Division II tournament, which begins March 9 in Sioux City, Iowa.
"Not many teams get to say they're undefeated in the regular season and then go win at the tournament as well," Hopkins-Chery said. "These girls deserve a lot of credit. They worked their butts off in conditioning and dealt with the adversity, ultimately showing that in the end, hard work does pay off."