Workforce Planning, Innovation Awards Highlight Annual Staff Meeting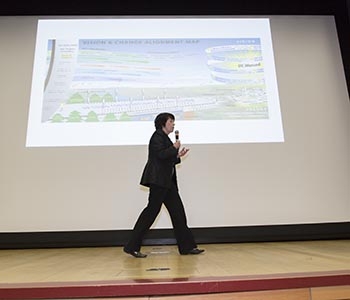 Several hundred UC Merced staff members kicked off the 2017 spring semester with a briefing from Chancellor Dorothy Leland, who provided updates on several key initiatives, topics and upcoming programs during the campus' second Annual Staff Meeting.
Leland started the Jan. 12 meeting with a brief recap of UC Merced's highlights in 2016, including groundbreakings for the Merced 2020 Project and the Downtown Campus Center, earning an R2 classification as a research institution from the Carnegie Foundation and inclusion on several national rankings lists.
"I want to remind you that none of this would happen without you and all the wonderful things you do to support academic distinction, research excellence and student success," Leland said. "Everything you do at UC Merced is contributing to our accomplishments and vision. You are helping to build the future at UC Merced."
Staff members who were unable to attend the meeting or watch the live broadcast can view the recording at their convenience.
Vision and Change Alignment
All attendees received a copy of the Vision and Change Alignment map developed last year with input from campus community members to help the university prioritize and achieve its goals.
"If you look closely, our vision is a vertical motion," Leland said. "It moves upward, rising higher with each aspiration. The work that you do to support our vision not only lifts our faculty and students but enriches the Central Valley and the community."
When planning projects, programs and goals, campus constituents should use guidelines on the map to identify priorities and determine whether the project will affect research excellence, academic distinction, student success or organizational sustainability.
Leland added that leadership will be more transparent in the future about why decisions are made and the criteria used to make those decisions.
Long-Range Financial Planning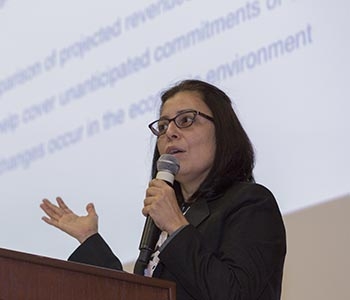 Assistant Vice Chancellor for Planning and Budget Veronica Mendez provided an overview about work the Finance Group has conducted over the past two years.
"The Finance Group has worked hard to determine the state of the university's finances," Mendez said. "What we discovered was not pleasant. We were essentially borrowing money (from the Office of the President) to cover operating expenses."
The Finance Group worked with campus leadership to publish a comprehensive budget aligned to campus revenues. While there is still work to be done, they have made major improvements.
One of those improvements was the development of a long range financial model that provides financial analysis to support strategic decision making by campus leadership. The model represents UC Merced's financial picture over several years, and includes past and present finances and estimates what the campus's future will look like if it continues on its current path.
"The idea is to plan not only for today but well into the future," Mendez said.
Because the model is a forecast, it will need to be updated constantly. Mendez invited the campus community to help identify initiatives that can generate revenue and assured transparency as the process moves forward.
Additional details about the campus's financial planning efforts are posted on the Finance Group website. 
Staff Hiring Plan
Leland also provided an update on the campus's Workforce Planning Initiative, which examines the current workforce and forecasts future needs based on strategic and operational priorities. When the process started in 2014, departments and divisions were asked to focus on functions instead of employee headcounts or positions.
"The planning effort that we've been undertaking is really different," Leland said. "It's an effort to create a multi-year staff hiring plan consistent with the resources we estimate will be available for new hires."
Instead of hiring "division by division, we're going to look (at) institutional priorities across our divisions," Leland said.
To accomplish this, Leland formed three work groups that will focus on three priority areas:
Research excellence and academic distinction
Student success
Organizational efficiencies and sustainability
The teams, which will consist of a cross-section of campus constituencies, will collaborate and recommend a five-year hiring plan. Leland announced the staff members selected to represent the staff in each of the priority areas: Annette Garcia of the School of Natural Sciences, for research excellence and academic distinction; Alisha Kimble of Undergraduate Education, for student success; and Paul Garza in Human Resources, for organizational efficiencies and sustainability.
The groups will bring their recommendations to Leland in April, and she will share them with the broader staff and faculty groups during a summit to gather feedback. The work groups will incorporate that feedback, adjust their initial recommendations and present their final proposals to the chancellor before the start of the next budget year in July.
"We can put these hiring plans into our budget and you will have more certainty in your areas about what's coming year after year in terms of new staff support," she said.
Staff Assembly Update, Innovation Award Changes
Staff Assembly President Pam Taylor provided a brief overview of the organization's coming programs and events including Staff Appreciation Week and the call for nominations for the 2017 Staff Excellence Awards. The Staff Appreciation Week planning committee is recruiting members to help organize this year's event. Those interested in volunteering may contact Staff Assembly for more information.  
Leland ended the meeting by announcing the second year of the Chancellor's Innovation Awards. The goal is to encourage staff members to work in teams to develop innovative and transformative ideas that can improve the workplace. The awards include the following prizes:
First place: $5,000
Second place: $2,500
Third place: $1,000
In addition to requiring participants to work in teams to submit a proposal, this year's Innovation Awards categories will be aligned with priorities on the Vision and Change Alignment map and Workforce Planning Initiative work groups. Proposals are due by 5 p.m. April 17.
Information regarding the 2017 Chancellor's Innovation Awards — including how to submit a proposal, judging criteria, a timeline and other details — are posted on the Office of the Chancellor website.