Zipcar Zooms Into Service, Offers Car Sharing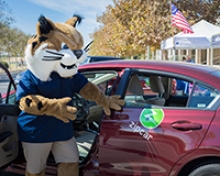 Campus community members now have another way to get around town — or out of town, if they don't have access to their own vehicles — with the arrival of Zipcar car-sharing service at UC Merced.
Zipcar launched Sept. 24. It's a membership service that offers users access to vehicles 24 hours a day, seven days a week. The program is available to faculty and staff members and students. Drivers must be 18 years old to use the service.
UC Merced will have three Zipcar vehicles stationed on campus, and members can reserve cars for as little as an hour or up to seven days. Reservations can be made online or by using a smartphone.
"Zipcar is another transit option for campus community members that supports UC Merced's standing commitment to sustainability and being a proactive steward of the environment," said Karin Groth, director of Transportation and Parking Services (TAPS).
Zipcar, which replaces the Hertz On Demand service previously offered by TAPS, is touted as a sustainable alternative to car ownership. It contributes to reduced vehicle emissions, lessens traffic and parking demand by way of fewer cars on the road, and saves users money.
Drivers pay only for the time they use the vehicle and don't have additional costs such as gas, insurance, parking, registration and maintenance. Hourly and daily rates include gas, insurance and 180 miles per day to get travelers to wherever they need to go.
TAPS celebrated the arrival of Zipcar at UC Merced with a launch event in the Cat Quad near student housing. Participants could see the cars and sign up for membership, and were treated to kettle corn. Campus mascot Rufus Bobcat was also on hand for the festivities.
Bringing Zipcar to UC Merced is part of TAPS's continuing efforts to provide sustainable transportation alternatives that can help limit traffic, improve air quality and reduce the number of single-occupant vehicles traveling to campus. As UC Merced progresses toward the goal of accommodating 10,000 students by 2020, applying strategies to minimize traffic is imperative, Groth said.
More information regarding Zipcar is available on the TAPS website. For more information,  email TAPS or call 209-228-8277.